2 minutes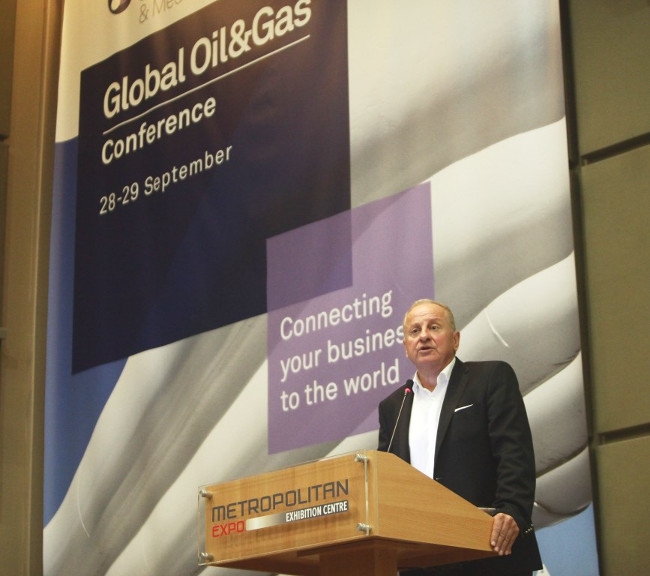 Speaking this morning at the "2nd Oil and Gas SE Europe and Mediterranean summit, Mr. G. Stergioulis, the CEO of HELLENIC PETROLEUM expressed the Group's desire to play a leading role across the energy spectrum and to explore all potential opportunities, so as to reinforce its position as the leading energy Group in the area.
He also –pointed out that the Group has historically maintained a role as Greece's largest explorer, playing a leading role in area mapping, and defined the Group's strategic goal, which is to discover and produce oil and natural gas in Greece. Mr. Stergioulis noted that all the data collected in the past as well as the whole map of the region are being re-examined using new tools, and that, in collaboration with large companies in the sector, the Group is looking forward to new scientific conclusions in the exploration as well as the discovery aspects of Hydrocarbons, to the benefit of the country and the national economy.
"We rely on our main competitive advantages, namely the huge accumulated experience of our people from our research so far, the knowledge of the Greek region, our considerable expertise and our geopolitical position", he stated.
When referring to the financial results, Mr. Stergioulis stressed that during 2015 the Group achieved a historical limit-up in profits, while in August of 2016 a record in production was also achieved. Thus the Group reinforces its position, increasing exports to 55%-60% and has signed significant international deals, such as with NIOC from Iran, ROSNEFT from Russia and SOMO, the Iraqi State Oil Company, while at the same time similar discussions for the supply of crude oil are being held with Egypt.
The Group's CEO concluded his speech as follows: "HELPE will continue on the path of increased competitiveness, focusing on exports, so as to mitigate the consequences of the current economic recession and to –preserve our profits in high levels, in order to maintain our position as one of the most dynamic energy Groups in SE Europe and the Mediterranean.
For the full speech of the CEO of Hellenic Petroleum, Mr G. Stergioulis, click here
Fof the presentation of the CEO of Hellenic Petroleum, Mr G. Stergiouls, click here
​