1 minute
---
Press releases
15 Top International Distinctions for the "2021 ANNUAL REPORT"
HELLENiQ ENERGY has participated with the 2021 Annual Report in the following international competitions held from May to August 2022 and has been awarded with a total of 10 awards (6 for the print version and 4 for the digital), as well as with 5 distinctions, in the category "Best Annual Report".
The "2021 Annual Report – VISION 2025" is based on our holistic plan "VISION 2025". Through this plan, we progressed significantly in areas that redefine our strategy and accelerate the transformation towards a diversified energy group, with improved environmental footprint.
With the excellent cooperation between our team members and our associates, the Annual Report won the following awards (10) and distinctions (5) in the international competitions:
1.    Annual Report Competition - ARC AWARDS INTERNATIONAL, based in New York, USA
2.    INTERNATIONAL BUSINESS AWARDS (IBA) The Stevie Awards, based in Virginia, USA
3.    LACP (League of American Communications Professionals LLC) - 2021 VISION AWARDS, based in Florida, USA
4.    IADA "The International Annual Report Design Awards", based in London, UK
5.    Galaxy Awards 2022 - The International Competition for Product & Service Marketing, based in New York, USA
For more information, download our Annual Report 2021 or visit https://annualreport2021.helpe.gr/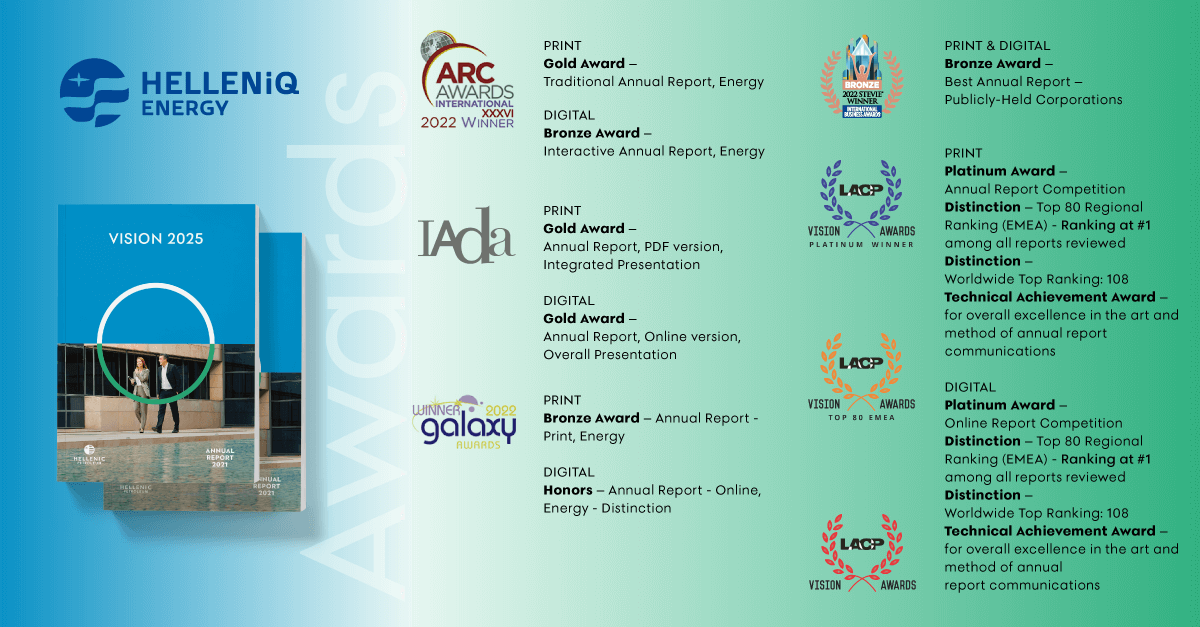 ---